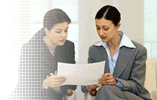 Please use the following information for recording promotions that occurred during this reporting period. The information this form is intended to capture is the employee's movement from one position to another.
This information is best registered by counting as promotions only those employment actions that move an employee from one job title to another job title.
The list below contains all the information needed to complete the appropriate analysis. It is important to ensure that all of the information requested be recorded for each promotion that took place during the 12-month period.
For each individual promoted in your company during the past AAP year please list:
The date of the promotion.
The name of the employee promoted.
The job title from which the person was promoted.
The job group of the job identified above or its EEO code number.
The job title to which the employee was promoted.
The job group or EEO code of the new position.
The race and sex of the promoted employee.
The disabled and veteran's status of the employee.
The reason the employee was promoted (be as specific as possible).

Promotions Log
Click Here

- 29 kb

Click Here

- 6 kb