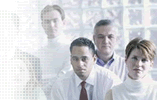 Why pay costly travel expenses sending your managers to get their training? With RPL Management Resources On-Site EEO Training we can save you time and money.

Topics covered in our training sessions include:
Sexual Harassment


Diversity


Discipline and Terminations


Americans with Disabilities Act


Each training session is full of relative and up-to-date case studies, which enables you to grasp the concepts as they pertain to everyday business.

For the best prices on our Onsite EEO Training contact us or call 1 (800) 633-4775. If you are looking for an even more cost effective way to train your employees, check out our Internet Training Courses.